he Ban Ki-moon Centre for Global Citizens is excited to announce that it will fund 10 stipends for the Ghent University 2021 Summer School Program in cooperation with the Ghent University, Faculty of Medicine and Health Sciences, ANSER Network & BeMSA Ghent.
APPLICATIONS FOR THE BAN KI-MOON CENTRE FUNDED STIPENDS FOR SUMMER SCHOOL GHENT 2021 ARE NOW OPEN!
Applicants can choose to apply for a stipend for one or both of the programs in "Sexual & Reproductive Health & Rights" and "Health & Globalization".
The Ghent University student to student-led Summer School is taking place virtually, from July 4-14, 2021. Students enrolled in health sciences, humanities, medical and social sciences have the opportunity to attend online lectures taught by prominent professors and renowned international experts in the fields of human rights, health inequalities, migration, infectious diseases and more.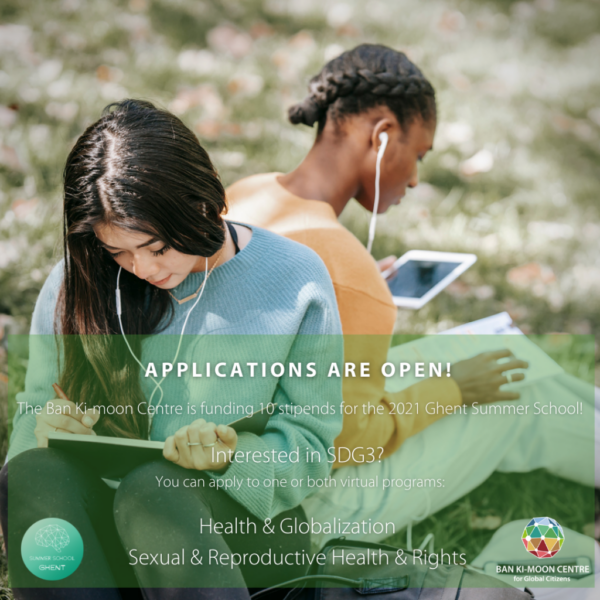 What awaits you?
Online lectures on contemporary topics of SDG 3 Good Health & Well-being, and global health inequalities:
Networking space and extracurricular learning opportunities
A Certificate of Completion after final written assignment
Who can apply?
People between the age of 18 and 35
Enrolled in a Bachelor's degree or higher
Multidisciplinary academic and professional background
Minimum level of English language skills B2
Africa, Eastern Europe, and Middle East
How to apply?
Please send your application by 1 May 2021 to: office@bankimooncentre.org with the subject line "BKMC STIPEND GHENT SUMMER SCHOOL":
Curriculum Vitae in English
500-word motivation letter
Knowledge about the SDGs is an asset
Name of the desired program(s) in email text
Read our leaflet for more information!