Under the theme "Remember our Common Future", the Global Engagement and Empowerment Forum on Sustainable Development (GEEF) reviewed the Past, Present and Future of the UN Sustainable Development Goals (SDGs), and discussed the role of international cooperation in the post-Covid-19 era.
On February 10-11, 2022, the Ban Ki-moon Centre co-hosted the 4th GEEF in cooperation with Yonsei University, the Institute for Global Engagement & Empowerment (IGEE), and the Ban Ki-moon Foundation for a Better Future. The GEEF is an annual international event where global leaders and experts, including the 8th Secretary-General of the United Nations and Co-chair of the BKMC Ban Ki-moon, United Nations Deputy Secretary General Amina J. Mohammed, First Woman Prime Minister of Norway Gro Harlem Brundtland and more convene to collaborate towards accomplishing the United Nations' 2030 Agenda for Sustainable Development.
The Ban Ki-moon Centre hosted a Featured and Scientific Session "Global Citizenship for a Sustainable Tomorrow – from Policy to Action", moderated by COO Katrin Harvey and Program Officer Julia Zimmerman and featured opening remarks by Co-chairs Ban Ki-moon and Heinz Fischer. It focused on best practice examples of GCED policy and spotlighted youth-led global citizen action for the SDGs.
"In a world of ever-increasing global challenges, education provides an essential pathway to solutions by illuminating minds & inciting actions." – Co-chair Ban Ki-moon
Keynote speeches were delivered by Niki Kerameus, Minister of Education and Religious Affairs for Greece and Vibeke Jensen, the Director of the Division for Peace and Sustainable Development at UNESCO highlighting what both Greece and UNESCO are doing to support policy for GCED and Target 4.7.
"We have moved from the focus of transferring knowledge to a parallel focus on the cultivation of skills, such as empathy & problem-solving." – Minister for Education Niki Kerameus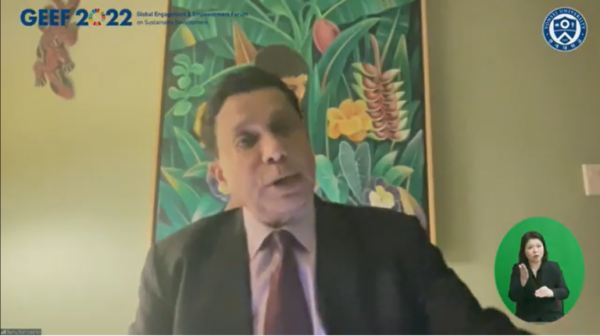 Other high-level speakers shared their insights on policy for Target 4.7 and GCED during the first half of the session, including Ramu Damodaran, First Chief of the United Nations Academic Impact (UNAI) and Sam Loni, Program Director, Sustainable Development Solutions Network (SDSN) and Director, Global Schools.
"We plant a tree under whose shade we will never sit – that is what global citizenship and citizenry is all about." – First Chief Ramu Damodaran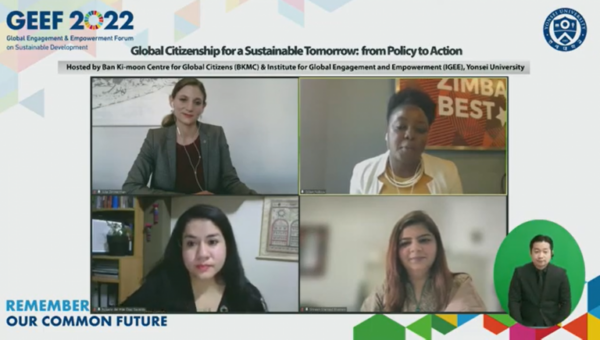 After the high-level segment, a youth panel discussion took place, featuring three outstanding young changemakers from the BKMC's own leadership and empowerment programs:
Gillian Ndlovu, Ban Ki-moon Centre, Global Citizen Scholar 2021 (Zimbabwe)
Rosario Diaz Garavito, Ban Ki-moon Centre, Global Citizen Fellow 2021 (Peru)
Shireen Shehzad Bhamani Ban Ki-moon Centre, Global Citizen Mentee 2021 (Pakistan)
The youth panelists shared the impact their SDG Micro-Project had on their communities and how they have taken action as global citizens, offering inspiring words of advice to others to act for the SDGs.
We thank all partners and participants for their engagement in the GEEF 2022!