On July 10, the Ban Ki-moon Centre for Global Citizens hosted an introductory session with the BKMC Global Citizen Scholars 2020. CEO Monika Froehler and Program Officer Julia Zimmerman joined the scholars via Zoom to discuss their individual SDG Micro-Projects, how the scholarship is going so far, and what to expect from the upcoming months.
The 6 scholars who come from various countries in Africa (Ghana, Kenya, Uganda, and Zimbabwe), had already participated in an online one-week training program with the University of Bordeaux. The intensive online training focused on "COVID-19 in #Africa: multidisciplinary insights".

During the session, CEO Froehler introduced the Centre and detailed the Centre's current projects. Following CEO Froehler's presentation, each scholar made short presentations of their proposed SDG Micro-Projects. Many team members of the BKMC were able to listen to the scholars' project summaries and ask questions. At the end of the session, Program Officer Julia Zimmerman shared the timeline and details for the rest of the scholarship period.
The scholars will now focus primarily on implementing their own #SDG projects, but will also benefit from one-on-one mentoring with a professor from the University of Bordeaux and Expert Workshops hosted by the BKMC.
You can learn more about our scholars and their projects below. The projects focus on wastewater management, sustainable agriculture, increasing food security, reducing violence in urban slums, and supporting girls with menstrual hygiene education and resources.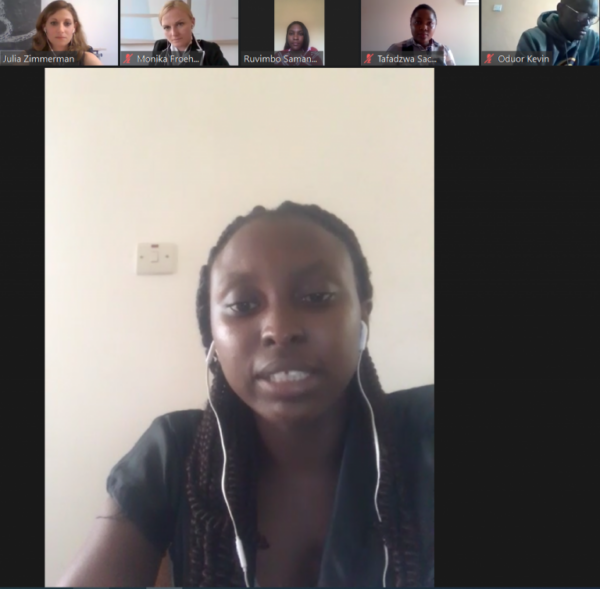 Akosua is a trained engineer, policy analyst, climate change and sustainability advisor and a youth change leader who is currently leading the Business Incubator Program of Recycle Up Ghana. Her SDG Micro-Project is focused on improving climate-resilient agriculture practices among widows and orphans in local communities of Ghana widows. She is in the process of adapting her project to the current circumstances around COVID-19.

Tafadzwa is a young change-maker from Zimbabwe. Her SDG Micro-Project tackles wastewater management systems in Africa through a Zimbabwean case-study. Her main objective it to lobby for the establishment and adoption of sustainable urban wastewater systems and practices in Zimbabwe.

Ruvimbo (Ru) is the National Point of Contact for Zimbabwe in the Space Generation Advisory Council and the Women in Aerospace Africa Chapter. She is also a policy analyst at Space In Africa. Her project focuses on creating data solutions for small-scale farming in Zimbabwe by developing satellite-based solutions able to cater to the specific needs and resources of communities and lands in Zimbabwe.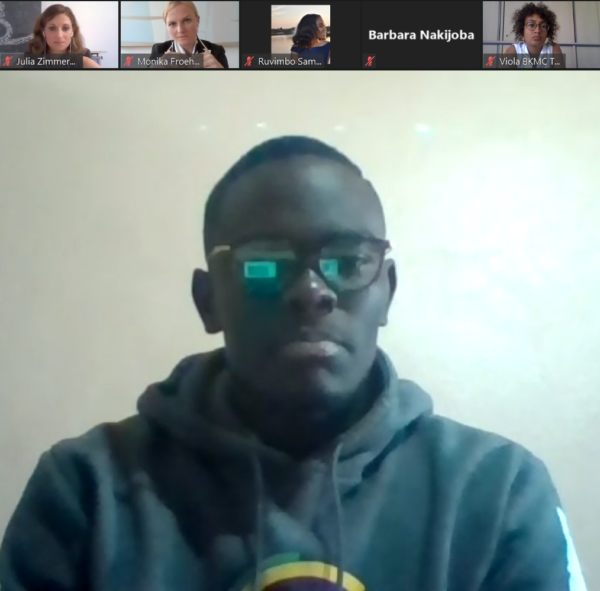 Oduor Kevin is from Kenya and is a public health expert, currently serving as the Chief Programs Officer for Stowelink Inc., a youth-led organization working to tackle the burden of non-communicable diseases. His project centers around reducing food waste through the drying of excess crops for later consumption.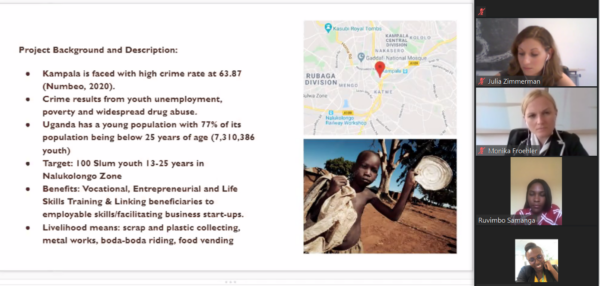 Barbara Nakijoba
Barbara Nakijoba is from Uganda and is a monitoring and evaluation officer who is working with Uganda Youth Development Link (UYDEL). Her project works to reduce violence in urban slums of Kampala by supporting at vulnerable youth with opportunities for vocational training and entrepreneurship.
Hikmat Baba Dua
Hikmat is a young leader from Ghana committed to girls' empowerment and founder of the organization 'League of Young Female Leaders.' Her SDG Micro-Project project aims to promote menstrual hygiene education and improving access to menstrual products through sensitization, cost-effective and environmentally sustainable means in rural communities in Ghana.