On February 3rd, the Dewey Centre hosted the event "New Generations, New Visions – Rebooting Dialogues on Civilizations between East & West" from Beijing, China, in partnership with the BKMC. It was the launch of the Dewey Global Dialogues with young people in China and renowned international experts to inspire a generation of future leaders acting and leading with passion and compassion to build a better future. The new partnership between the two Centers was sealed with an MoU in 2020 and will especially focus on young students in China who are active in the field of STEAM (Science, Technology, Engineering, Art, and Mathematics) plus Sports.
The high-level international speakers that were welcomed by Prof. Yao Yao from the Dewey Centre were:
– BKMC Co-chair Ban Ki-moon,
– Former Vice Minister of Education in China, & President of China Foreign Languages Publishing Administration Du Zhanyuan,
– Head of STEM Education Research Center in China Wang Su,
– BKMC Board Member and former UNESCO DG Irina Bokova,
– BKMC Board Member and former USG on Disarmament Kim Won-soo, and
– BKMC CEO Monika Froehler.
The speakers discussed the role of education to promote international collaboration, multilateralism, and diversity among youth to enhance sustainable development and the need for increased dialogue between the East and the West.
Co-chair Ban Ki-moon encouraged youth in his opening speech to take on more responsibility for a sustainable future.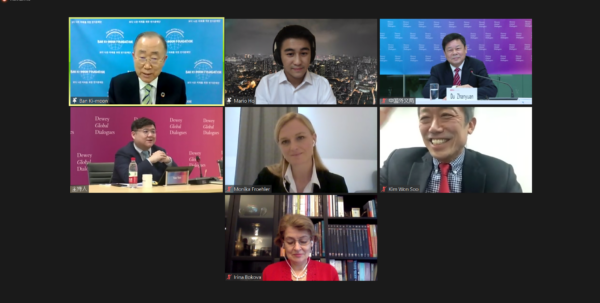 "The history is in your hands. What you see, what you learn, what you create today will change tomorrow's world. Dear young friends, a better world is waiting for you to create a better future. You can create a world safer, more secure and better for all to live in peace and prosperity. As a former Secretary-General of the UN, I am committed to work with you to realize a sustainable world." – Ban Ki-moon
The China Foreign Languages Publishing Administration offered support for this joint initiative through Former Vice Minister of Education in China Du Zahnyuan, who shared three priorities to inspire young leaders to value diversity, culture, and sustainability:
"First, young people should have the chance to obtain knowledge and education.Second, young people should take responsibility for global challenges and should understand the importance of responsibility to build a better world.  Third, young people should take concrete actions and address common challenges building a better future." – Du Zahn Yuan
Former UN Under-Secretary General and BKMC Board Member Kim Won-soo referenced Agenda 2030 and emphasized that youth play an integral part to defining the future of the world:
"Global challenges need global solutions but that means global leadership and requires participation of every stakeholder of the private and public sectors. We cannot design any solutions without the right leadership." – Kim Won-soo
During the session, BKMC Board Member Irina Bokova offered her insights as former Director-General of UNESCO: 
"This debate echoes deeply with my experience as the former DG UNESCO.. My advice would be to embrace sustainability and a humanistic agenda. To embrace diversity of culture, more knowledge of others through education and respect for human dignity and respect." – Irina Bokova
BKMC CEO Monika Froehler gave examples of individual stories of global citizens to visualize the crucial importance to reboot dialogue between East and West to solve global challenges: 
"John Dewey and Ban Ki-moon are visionaries, convinced about the importance of education and service to the community." -Monika Froehler
As the last speaker, Head of STEM Education Research Center Wang Su discussed how to facilitate inclusive learning:
"We need to rethink the ultimate purpose of education, which is to inspire students." – Wang Su
At the end of the online discussion, the speakers engaged with young leaders in an insightful Q&A, on the topics of the digital divide, the US-China bilateral relationship under the new US-presidency and opportunities for sustainable development by resetting multilateralism.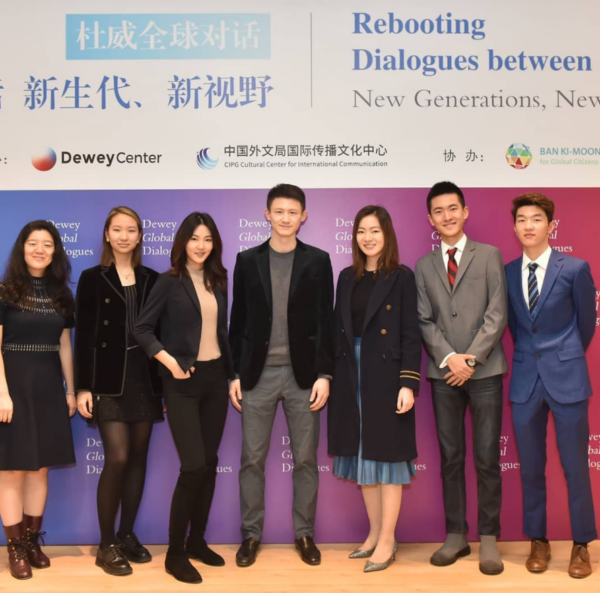 The BKMC is looking forward to its future cooperation with the Dewey Centre and to many more challenging dialogues in the coming year! Together we can inspire a future generation of leaders embracing culture, diversity, creativity, compassion, and innovation.
Watch Co-chair Ban Ki-moon's Remarks:
Co-chair Ban Ki-moon & Mario Ho on e-sports: