This year the UN SDG Action Campaign became an online space engaging world leaders and emerging leaders to accelerate solutions for the sustainable development goals. During three days between 22-24 September, a total of 46 panels brought together 90 million people!
 The Ban Ki-moon Centre for Global Citizens hosted a breakout session introducing its #fellows and #scholars who discussed how they tackled challenges in their own communities, the concept of #SDG Micro-projects, and how everyone can make a difference.  
The session featured 5 of the Ban Ki-moon Centre's outstanding Global Citizen Scholars and Fellows: Oyindamola Adegboye, Alhassan Baba Muniru, Farida Amiri, Latifa AlWazzan, and Belinda Isimbi Uwase and their innovative 'SDG Micro-Projects' for their communities. "
"An SDG Micro-Project is a project that addresses one or more of the SDGs in a specific community. Sometimes these projects also have a bigger regional or global focus." Julia Zimmerman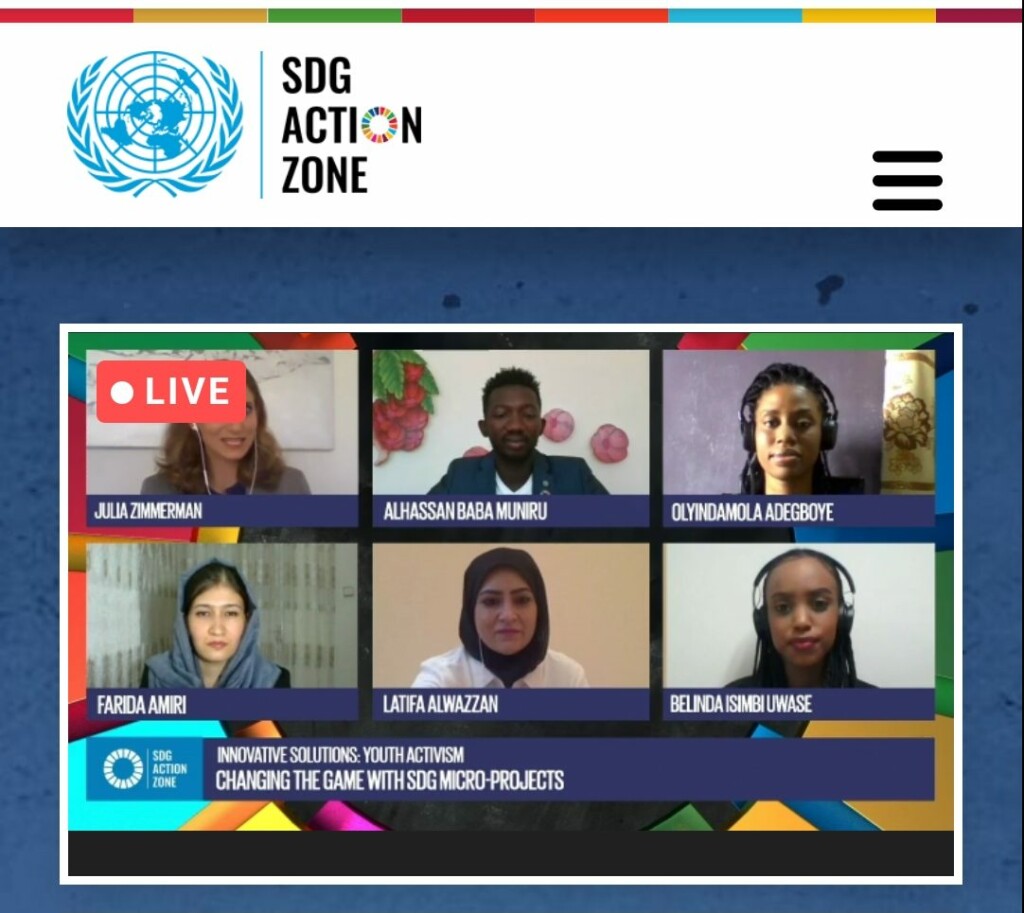 The speakers shared their experiences with #activism for the #SDGs by tackling problems in their communities like improving recycling in Ghana, promoting inclusive peacebuilding in Afghanistan, and supporting the empowerment of girls in Rwanda to reach their full potential.
"Local problems must be solved by local people. Young people are the current and future change-makers and should be empowered to start acting now." Alhassan Muniru 
Additionally, the speakers offered suggestions for how their ideas could be replicated elsewhere and scaled. At the end of the session, each speaker shared a 'call to action' for young activists around the world, making inspiring statements for how to 'change the game' for the SDGs.  
"If we include the younger generation, particularly young women, in peacebuilding activities or peacebuilding processes, somehow we also directly or indirectly address and tackle the issue of coexistence which is very important in order to step forward and to implement the other SDGs." Farida Amiri 
Watch the session in full below: 
ABOUT THE SDG ACTION ZONE:
As a side event of the United Nations General Assembly on 22–24 September 2020, the fully virtual SDG Action Zone convened leading thinkers, actors, creators, and activists through frank debate, challenging discussions, inspiring showcases, and creative experiences to drive the exponential change on three core areas for accelerating action on the Goals: People, Planet and Partnerships.