On September 8th, the President of Austria, Alexander Van der Bellen, visited the Ban Ki-moon Centre for Global Citizens office in Vienna. The meeting was hosted by the Co-chairs of the Centre, the 8th Secretary-General of the United Nations and the 11th President of Austria Heinz Fischer.
Following a brief introduction with the team and of the Centre, the three government leaders held a discussion on recent global affairs in private and then spoke with Krone Zeitung. You can read the full interview below in English or here Krone220911 in German.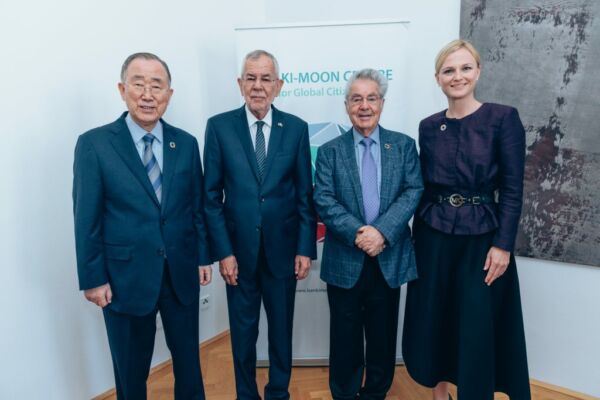 "The beautiful dream of a world without war and poverty"
The former UN Secretary-General Ban Ki-moon, Federal President Alexander Van der Bellen and his predecessor Heinz Fischer met with the "Kronen Zeitung" for an in-depth conversation.
What they are wishing for was the final question posed to the former UN Secretary-General Ban Ki-moon, Federal President Alexander Van der Bellen and his predecessor
Heinz Fischer after a long joint conversation with the "Krone".
A world where people listen to each other and their rights are respected, a world where no one is poor, where men and women have equal rights and where wars are forbidden.
Ban even dreams of global citizenship. Just like John Lennon in the year 1971 in his peace ballad "Imagine":
Imagine there are no countries, no possessions, nothing to kill or die for…
Unfortunately, this is unrealistic, as Ban explains on the basis of his Korean home country. As a child, he was an internally displaced person, and the state of war between North and South Korea continues to this day, and the former Secretary-General does not see a reason for optimism at this point. A reunification is simply unrealistic. All summit meetings at the highest level have been unsuccessful.
The same applies to Taiwan, which considers itself an independent state but is seen by China as a renegade province. "One solution," says Heinz Fischer, "is not in sight." One could only hope for reason and that there is no reason for war.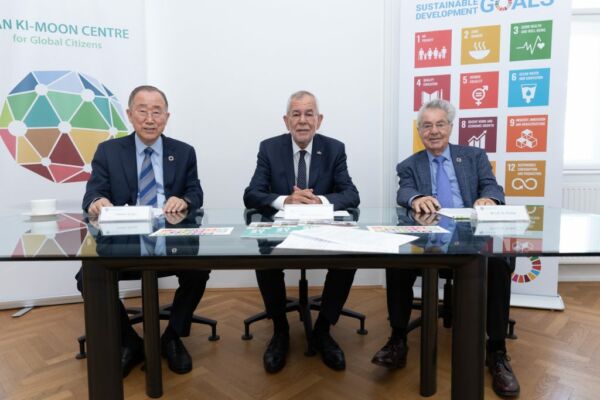 Van der Bellen: "Dangerous developments"
The issue today, according to Alexander van der Bellen is that there are so many crises at once. The pandemic is not yet over. No one knows what winter will bring. The Russian war in Ukraine is driving up energy prices. This is a problem for the economy, as well as for individual people.
All of these are dangerous developments. 
"People are worried", said the Federal President.
"And they have every reason to be." Still, he tries to reassure.
The EU is reacting in a coordinated manner and holding talks with Russia in one unified voice: "This surprised Putin. He did not expect that." Nevertheless, we shouldn't foster any illusions: "The war will last for a while."
Consequently, we shouldn't only get away from fossil fuels for this reason. This should have happened decades ago.
Hence, we would not be dependent on Russian gas now.
Ban: "The role of politics is to give people a voice."
"With regard to climate change, we were acting a bit like sleepwalkers," explains van der Bellen. "We didn't take it seriously for decades."
Not only on this point do we need a "global vision", says Ban. There is so much frustration in the world: "Yet, it's the role of politics to give people hope."
Fischer: "In the end, there are only losers."
The lesson from history is that war does not solve problems, adds Fischer: "In the end, there are only losers. Even the winners are in truth, losers." After all the deaths. And Federal President Alexander Van der Bellen concludes: "We all want peace."  This brings us back to John Lennon's beautiful dream.