After a month of working together, the efforts of the Youth Agri Champions came to a culmination in the final workshop of the Youth Agri Champions Peer2Peer Webinar Series. Coming together for the last time in this series, the participants presented their demand paper and reflected on the past few weeks and what is still to come. 
Opening the workshop this week was the BKMC's Co-chair, Dr. Heinz Fischer, who praised the Youth Agri Champions for their 'ambition, dedication, and enthusiasm for fighting climate change. He supported the demands created and outlined his willingness to amplify the voices and ideas shared over the last weeks. Thereafter, three Youth Agri Champions, Richard Kachungu, Mercy Philips, and Usman Kibiya, officially handed over the demands to the BKMC, covering their demands in the areas of social risk management, finance, and capacity building.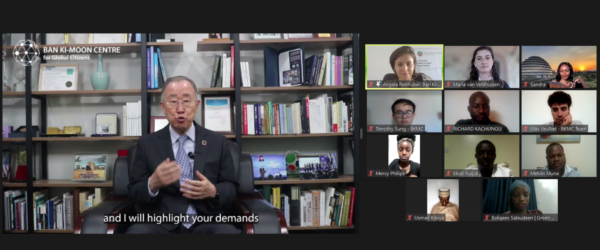 Furthermore, Co-chair Ban Ki-moon also sent his words of congratulations to the Youth Agri Champions. "Your work plays an important role in fighting climate change, improving food security, and bettering the future of our planet for your communities at large," emphasized Co-chair Ban, referring to the Youth Agri Champions' demands. He very much looked forward to pushing for and elevating the demands at the global level and encouraged the Youth Agri Champions to continue their collaboration in tackling the climate crisis. 
For some of the Youth Agri Champions, it was their first time engaging in cross-border cooperation, with many signaling their enthusiasm to become further involved in solving global problems. After weeks of learning from each other's diverse experiences and hard work in building up their demands, the final demand paper from the Youth Agri-Champions is now ready to help Ban Ki-moon and the BKMC team advocate for agricultural adaptation to climate change at COP27 and beyond.