Youth AgriChampions 2023 is underway with the development of climate demands for global leaders on agricultural adaptation
The Youth AgriChampions Workshop Series kicked off on July 27th, with 17 smallholder farmers and agripreneurs from Ghana, Kenya, Nigeria, Rwanda, and Zambia. Over the course of three workshops, the Youth AgriChampions will develop a set of demands on capacity building in climate adaptation in agriculture. BKMC's Co-Chair – former UN Secretary-General Ban Ki-moon, and the BKMC team will then present these demands at COP28 and in their global advocacy work to promote the climate adaptation needs of smallholder farmers.
At the opening of the workshop series, we heard from BKMC's CEO, Monika Froehler. As she congratulated the Youth AgriChampions for being selected for the program, she pointed out the key role that they play in their communities, leading the way in climate adaptation. In reflecting on the importance of their on-the-ground first-hand experience, Froehler thanked the AgriChampions for lending their voices to this very important cause.
After a presentation from the BKMC Program Manager, Angela Reithuber, on BKMC's work on supporting smallholder farmers in agricultural adaptation to climate change, the Youth AgriChampions were joined by Nicoline de Haan, the Director of CGIAR GENDER & Youth Impact Platform. De Haan spoke about the importance of gender and youth in CGIAR's research approach and made a compelling case for the strong involvement of grassroots voices in their work.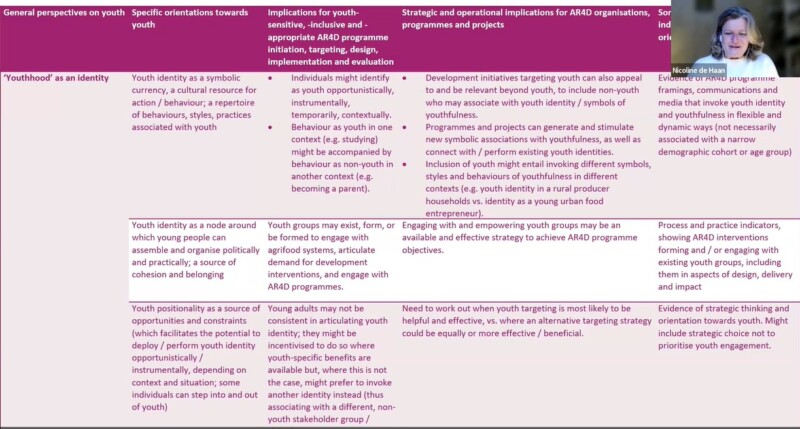 During the last phase of the workshop, the Youth AgriChampions split into two working groups – one focusing on "The role of women smallholders in capacity-building" and the other on "The gap between smallholders & policymakers and innovations". Within each group, the Youth AgriChampions discussed the problems, issues, and obstacles faced by smallholder farmers in undertaking capacity-building activities in the context of agricultural adaptation to climate change. Participants had the chance to share their experiences with peers from different countries. Some of the topics extensively discussed include the inadequacy of financial resources, the underrepresentation of especially female smallholders in decision-making processes, the scarcity of government support and services aimed at capacity building, and many more.
Building on these findings, the Youth AgriChampions will now work towards identifying possible solutions to the identified main obstacles, with the aim of taking the discussion further and ultimately formulating concrete demands along the process.