On Wednesday 25 May 5 PM CEST (8:30 PM AFT), the Ban Ki-moon Centre (BKMC) and its Afghan fellows from the Global Citizen Women Empowerment Program hosted a virtual roundtable "Voices of Hope: Realities of Afghan Women" to highlight the activism of Afghan women on the ground.
International Gender Champions Her Excellency Manizha Bakhtari, Ambassador of Afghanistan to Vienna, and BKMC CEO Monika Froehler spotlighted Afghan women as resilient and active agents of change fighting for sustainable peace.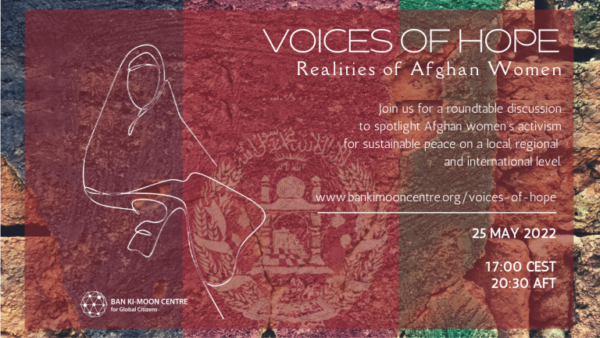 "The spirit of Afghan women will never die" – H.E. Manizha Bakhtari
Both iterated the risks to civil society leaders, activists, and reporters, especially women, and their shrinking involvement in public life due to the Taliban's fundamentalist hardliner policies. Their resistance is moving more and more off the streets and onto social media and smaller underground movements.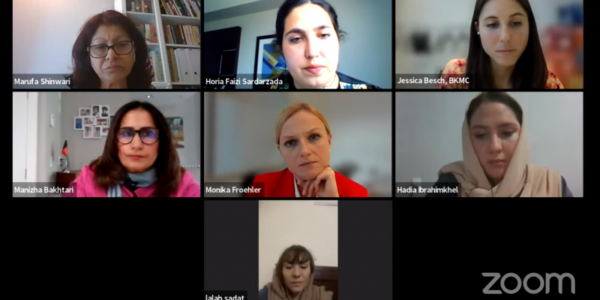 "We are currently experiencing a new generation of [ Afghan women] that is more enthusiastic and more focused." – Gender and Feminist Researcher at the McMaster University of Canada, Executive Director of the Immigrant Culture and Art Association (ICAA), and former Law Professor at Kabul University Marufa Shinware
With their knowledge and independence gained over the last 20 years, Afghan women are increasingly trying to transform the system they are living in and resisting the Taliban's oppression. They also question the international community's silence and condemn global misbelief in a new and more liberal Taliban regime.
Increased solidarity is needed to fight for democracy, human rights, and peace.
Watch the recording of our Roundtable via YouTube.