First Pledge for Smallholder Farmers, Agricultural Innovation and Research reaches $575M!
Between October 31st and November 12th, the United Kingdom (UK) hosted the 26th UN Climate Change Conference of the Parties (COP26) in Glasgow, Scotland. After one year of delay, due to the Covid-19 pandemic, more than 25.000 delegates from all over the world gathered to exchange, partner, negotiate, and significantly accelerate climate action towards achieving the Paris Climate Agreement.
In Glasgow, the BKMC was present throughout the conference and met with with high-level stakeholders and decision-makers of countries and institutions including the European Commission, Germany, Netherlands, UK, Qatar, and Zambia to advocate for higher attention to climate change adaptation in agriculture, especially towards the most vulnerable group – smallholder farmers.
Co-chair Ban Ki-moon delivered several calls for action during COP26. At the Agri-Food Transition Summit Climate Spotlight, he reinforced the key role of Agricultural Adaptation for building resilient food systems.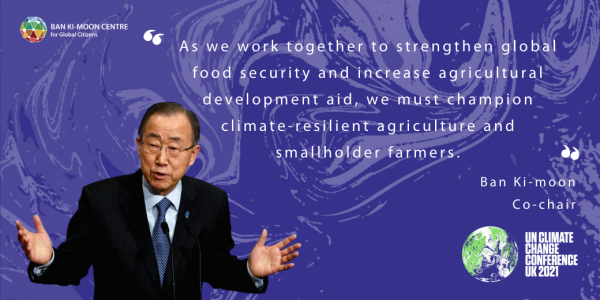 Monika Froehler, CEO of the BKMC, and Katrin Harvey, COO of the BKMC spoke at the COP26 side events: Sustainable Innovation Forum  "Climate Action Dialogue – Future Foods: Creating a Sustainable Food System for All" and the Agri-Food Transition Summit Panel Discussion "Meeting the Net Zero: Promoting Technological Innovation to Adapt Supply Chains Towards Efficiency, Resilience and Sustainabilty", organized by Climate Action.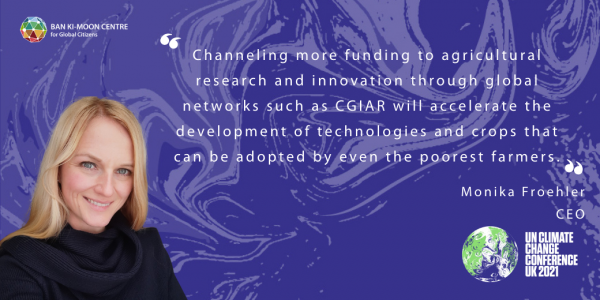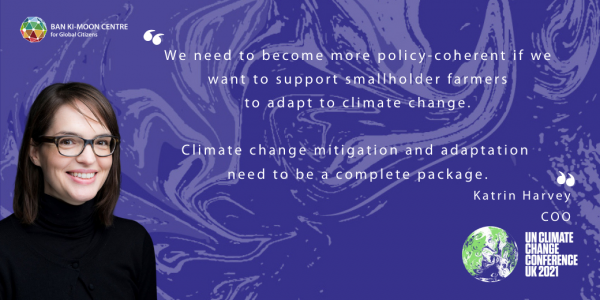 At COP26, a coalition of funders pledged $575 million to deliver climate-smart solutions to farmers in low-income countries via CGIAR. Several launches of initiatives and partnerships to draw further financing and commitment towards agricultural adaption were made.
In contrast to previous UN Climate Change Conferences, conversations and pledges at COP26 had a greater focus on adaptation measures, with agriculture playing a vital role. As of today, only roughly one-quarter of global climate change finance is directed towards adaptation measures. With the Elevating Agricultural Adaptation Program, the BKMC calls on leaders to increase commitments towards climate-smart agriculture, channeling resources to the CGIAR.
"It was encouraging to see the dynamics on many layers that increase the attention towards adaptation efforts in the agricultural sector," says Angela Reithuber, Program Manager of Elevating Agricultural Adaptation at the BKMC. "However, it became very clear that there are still huge gaps in quantitative and qualitative commitments of countries to accelerate action in climate-smart agriculture. We need farmer-centred solutions with a high level of transparency to accelerate innovation and knowledge-sharing."
There were loud calls that next year's COP27 in Egypt, Africa must focus even more on adaptation measures, as agriculture is both a driver and a solution to solving the climate crisis.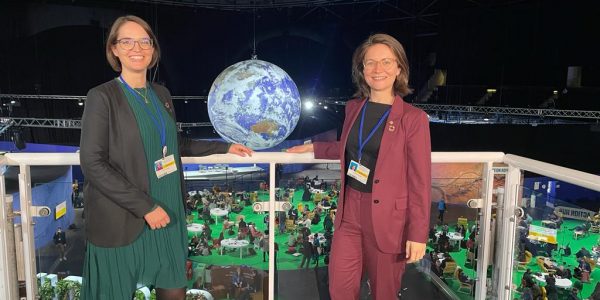 Read the COP26 Op-Ed by Co-chair Ban Ki-moon here.
Watch the Sustainable Innovation Forum recording here.
Watch the Agri-Food Transition Summit recording here.