Between November 6-18, 2022, the 27th Conference of the Parties of the United Nations Framework Convention on Climate Change (COP27) will take place in Sharm El-Sheikh. The Ban Ki-moon Centre is excited to co-host four COP27 Side Events with FAO, CGIAR, BCG, WEF, WFF, FairTrade, EmpoderClima, YPARD, and PACJA and participate as speakers in many more.
Join us in person or virtually to discuss accelerating agricultural adaptation for smallholder farmers, hear climate adaptation demands of our Youth Agri Champions toward world leaders, find out how young entrepreneurs shape the lives of female farmers in the Global South, and more. To see the schedule of all COP27 side events click here. All side events will be available in real time on the UNFCCC Youtube account. The list of events is being updated by UNFCCC and will be updated on this page simultaneously.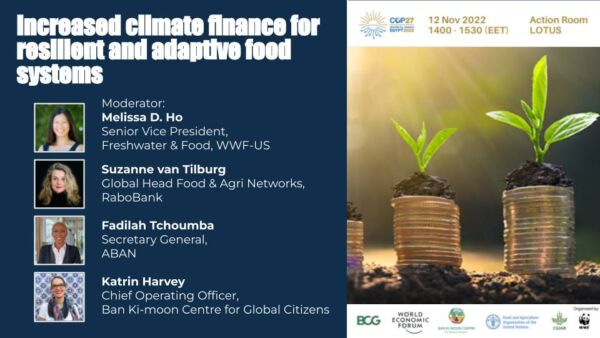 Saturday, November 12, 13.00 – 14.30 CET | 14.00 – 15.30 CAT @Blue Zone, Room Lotus
"Implementation Lab on Resilient and Adaptive Food Systems"
The roundtable addresses the co-benefits of resilient and adaptive food systems, targeted climate finance, and enabling policy solutions. BKMC COO Katrin Harvey and Program Manager Angela Reithuber participate in the discussion to answer the question "How do we ensure that the political commitment to strengthen resilience and upscale adaptation to impact on climate change for food systems is reaching the most vulnerable communities on the ground?"
Co-organizers: BKMC, FAO, CGIAR, BCG, WEF, WFF
Monday, November 14, 12.30 – 13.30 CET | 13.30 – 14.30 CAT @Children and Youth Pavilion
"Seeds for Equality – Young Women Shaping Regenerative Agriculture and Empowering Female Farmers in the Global South"
A multimedia session highlighting innovative solutions, led by young women, to shape regenerative agriculture and foster gender equality, youth empowerment, and climate justice in the Global South
Co-organizers: BKMC,Empodera Clima, YPARD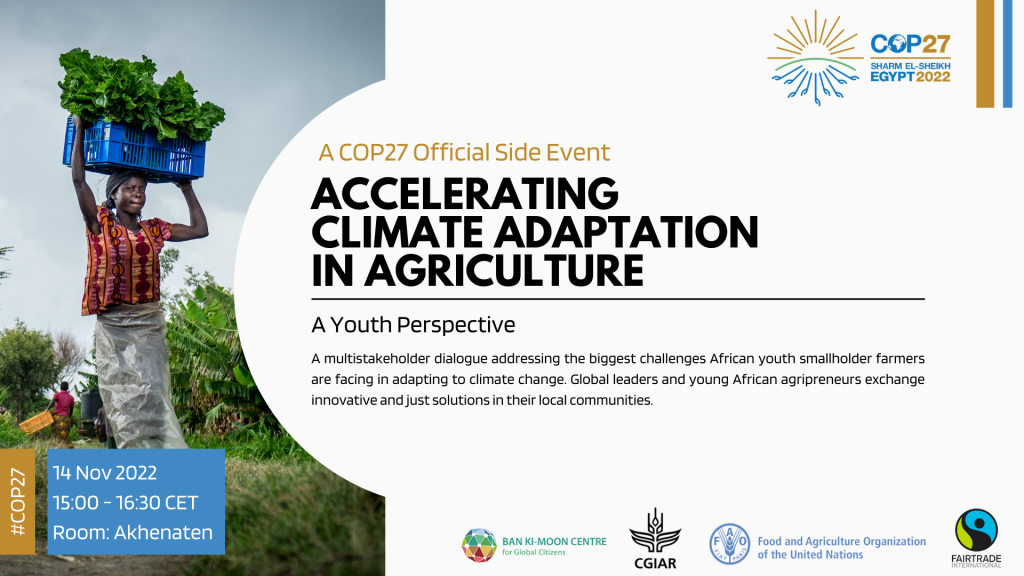 Monday, November 14, 14.00 – 15.00 CET | 15.00-16.00 CAT @Blue Zone,  Room 1, Akhenaten
Accelerating Climate Adaptation in Agriculture – A Youth Perspective
A multistakeholder dialogue addressing the biggest challenges African youth smallholder farmers are facing in adapting to climate change. Global leaders and young African agripreneurs from the BKMC network exchange innovative & just solutions in their local communities. The Youth Agri Champions who worked together over the summer, also launch their climate adaptation demand paper.
Co-organizers: BKMC, CGIAR, FAO, FairTrade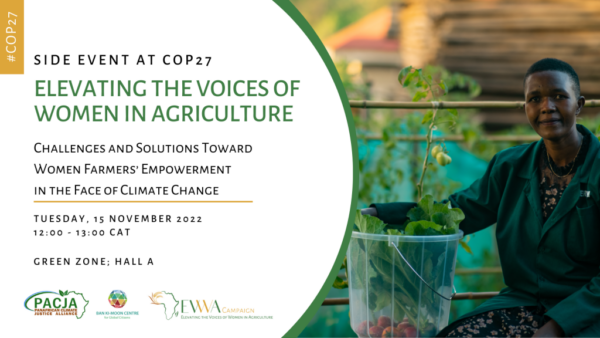 Tuesday, November 15, 11.00 – 12.00 CET | 12.00-13.00 CAT @Green Zone HALL A
Elevating the Voices of Women in Agriculture – Challenges and SolutionsToward Women Farmers' Empowerment in the Face of Climate Change
Panel discussion to highlight the significance of women farmers to achieve SDGs 2 and 13, particularly in the context of Africa. Hearing from experts and practitioners and showcasing youth-led best practice initiatives, the side event will raise awareness and inspire concrete and direct action to empower women farmers on the African continent in the face of climate change.
Co-organizers: BKMC, Panafrican Climate Justice Alliance
LINK COMING