Under theme "Turning point: From Crisis into Opportunity", the Global Engagement and Empowerment Forum on Sustainable Development in Seoul, proposed solutions to respond to global challenges such as digital health, higher education, the climate crisis, social innovation and more.
From 2nd to 3rd of February 2023, the Ban Ki-moon Centre co-hosted the 5th Global Engagement & Empowerment Forum on Sustainable Development (GEEF).
Global leaders and experts, such as UN Deputy Secretary General Amina J. Mohammed and The Elders Deputy Chair, Former First Lady of South Africa and Mozambique Graca Machel joined to collaborate towards accomplishing the United Nations' 2030 Agenda for Sustainable Development.
The opening ceremony featured welcome remarks from Co-chairs Ban Ki-moon, who called for increased innovation for global good and the need to act with a global citizen mindset and Dr. Heinz Fischer, who stressed the importance of listening to the demands and voices of youth in the climate crisis.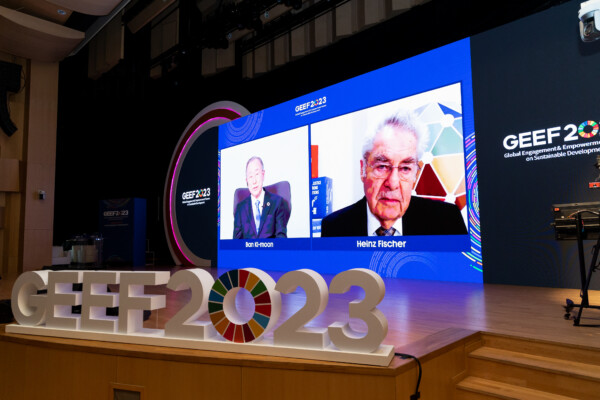 In the Special Conversation "Leaving no one behind in our post-pandemic recovery", the two Co-chairs urged for generations to work together for our common future.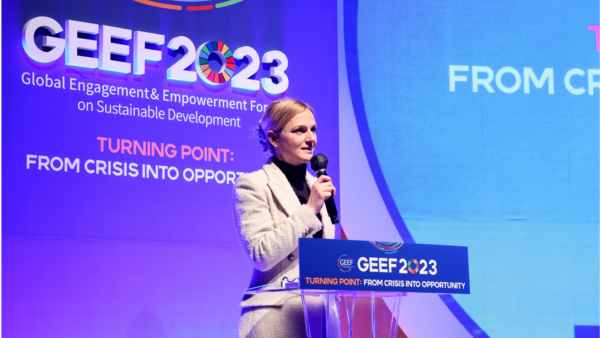 The Forum was co-moderated by BKMC CEO Monika Froehler, who summarized the overall input as "artistic, scientific, innovative and research- and education-oriented".
The Ban Ki-moon Centre hosted a panel discussion on "Greening Education in a time of climate crisis". The panel encouraged stakeholders to support the UNESCO's Greening Education Partnership and illustrated international pathways and opportunities to greening education from Europe, the US, the Middle East and Africa. It was moderated by BKMC COO Katrin Harvey and featured video statements by BKMC co-chair Ban Ki-moon as well as UNESCO Assistant Director-General for Education Stefania Giannini.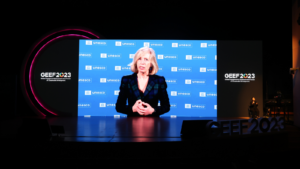 "We cannot win the climate battle without strong and coordinated action on Climate Education." – UNESCO Assistant Director-General for Education Stefania Giannini
The panel consisted of Shannon Kobran (Regional Team Lead for Asia, SDG Academy, Kuala Lumpur), Hilligje van't Land (Secretary-General of International Association of Universities, Paris), Temilade Salami (Founder and Director of EcoChampions, Nigeria), Kate Greer (Centre for Climate Change and Sustainability Education, UCL, London), and Dr. Shireen Nawal Chaya (Director of Programs, Dubai Cares).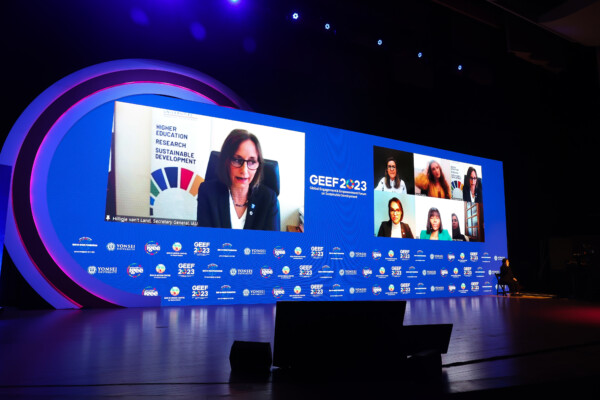 Throughout the discussion, the panelists highlighted solutions in regards to
addressing the climate education gap in Africa with advoacy, partnerships, green curricula and climate communication
integrating education in the upcoming COP28 in UAE
ensuring greening education processes are green and fair
initatives to greening higher education
digital educational resources to inspire youth for climate action
We thank all speakers, partners and participants for their engagement in the GEEF 2023!