This week, on November 17, 2020, the Ban Ki-moon Centre, in partnership with the Muslim Youth of Austria (MJÖ), successfully hosted its second closing ceremony of the mentorship program. The event was an online celebration for the partnerships built between the mentoring pairs and their successful completion of 20 SDG micro-projects over the past year. It was moderated by a former mentee from 2019, Nesrin El-Isa.
In their opening remarks, BKMC Co-chair and 11th Federal President of the Republic of Austria, Heinz Fischer, and CEO Monika Froehler congratulated the 20 mentees on their exceptional achievements.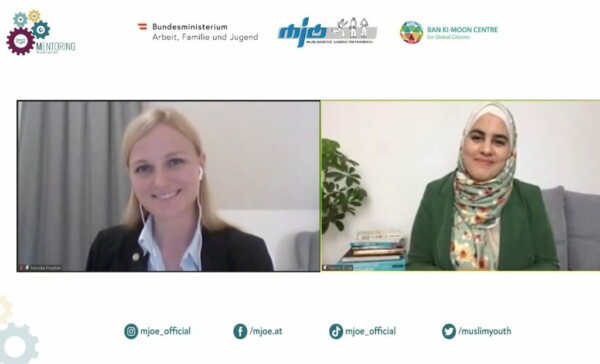 CEO Monika Froehler spoke about what the results of the SDG micro-projects represent, stating that: "SDG micro-projects are like puzzle pieces of hope. They are expressions of the fact that we all believe that the world can be made a little better."
Other high-profile speakers included Sonja Hammerschmidt – Member of the Austrian Parliament Social Democrats, and Sybille Hamann – Member of the Austrian Parliament Green Party, and Nermina Mumic – Co-chair of the Muslim Youth and CEO of Legitary. All speakers underlined the necessity of building a support network for young women and girls, particularly from the Muslim community in Austria, in order to create an equal, tolerant, and inclusive society.
Co-chair of the MJÖ Nermina Mumic, is also a former mentee of the program. In an anecdote, she shared that her mentor gave her the courage to build her own start-up which is now thriving. She also was recently honored by being named a Forbes "30 under 30." She appealed to all mentees to dare to believe in themselves: "The mentoring project is just the nudge you need to have courage."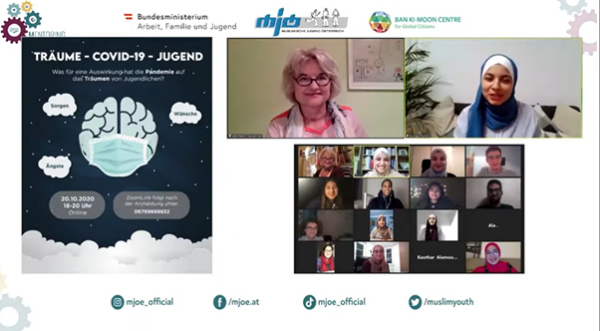 Three mentees and mentors were selected to present their excellent SDG micro-projects:
1. Video for Little Helps: a video to encourage engagement with NGOs and volunteer work
2. Dreams – Youth – Covid-19: A study and webinar on the effects of the pandemic on the dreams of young people
3. "The Conference of Animals": A theatre piece done with school children
The closing ceremony ended with words of appreciation from the mentors and mentees for the wonderful cooperation, emphasizing how the solidarity among the women led to inspiring outcomes.
The Ban Ki-moon Centre is very proud of this year's mentoring pairs and looks forward to staying in touch and following the SDGs micro-projects that remain active! Together we can create a better and more sustainable future for all, leaving no one behind.
Click here to watch the closing ceremony of the mentorship program (German language).