Co-hosted by the BKMC, the 3rd Global Engagement and Empowerment Forum on Sustainable Development (GEEF2021) aimed to diagnose the global crisis caused by the COVID-19 pandemic, showcase solutions and best practices for the post-COVID-19 era, examine opportunities and problems of the international cooperation network, and discuss partnerships and paths forward to accelerate the achievement of United Nations (UN) Sustainable Development Goals (SDGs).
On February 4-5, 2021, the Forum was held online under the theme "3Ps Beyond Security: Peace, Prosperity, and Partnership" together with the Yonsei University, its Institute for Global Engagement & Empowerment (IGEE) and the Ban Ki-moon Foundation for a Better Future in Seoul, South Korea.
GEEF 2021 highlighted digitalization, global health, and education crises as well as the SDGs and sustainable development in seven featured sessions:
1. Artificial Intelligence
2. Creative Solutions for a Sustainable Society
3. Safe and Affordable Surgery,
4. Future of Higher Education, Higher Education of the Future, and
5. Global Partnership & Higher Education "Postgraduate Medical Education in Africa: the status quo and challenges"
6. Global Partnership during and post COVID-19
7. Redesign our Future: The UN SDGs, 5 years and the next 10 years.
The opening ceremony on February 5th, led by BKMC Co-chair Ban Ki-moon, Co-Chair Heinz Fischer, and President of Yonsei University Seoung Hwan Suh, gave us a clear call for action: We need to reimagine the global community and partnership to overcome COVID-19, and accelerate the achievement of the SDGs.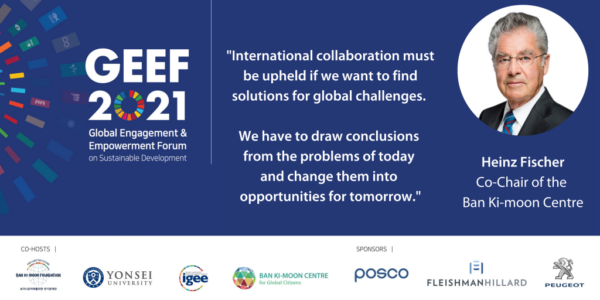 "Leaving No One Behind in a Post-Pandemic World"
As the wealthiest countries prioritize their own COVID-19 vaccine needs, "Vaccine Nationalism" threatens the world's recovery from the pandemic. A special discussion between BKMC Co-chair Ban Ki-moon and UN High Commissioner Special Envoy Angelina Jolie stressed that countries purchasing a majority of the vaccines have left other countries and people, especially women, youth, and refugees vulnerable.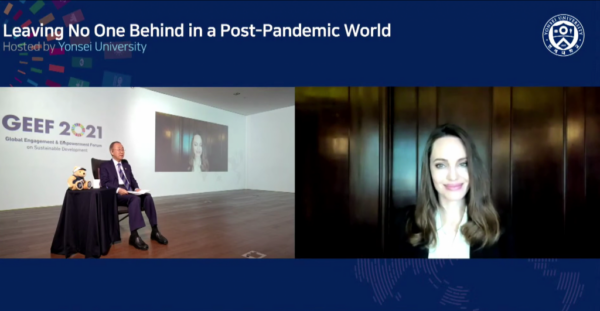 "We have to make sure that we create the future we all want. One driven by inclusion, compassion, empowerment, and sustainability for all people  and our planet." – Ban Ki-moon 
"…realizing how interconnected we are, our being so aware of each other, will bring us to a new understanding of how much we have got to link arms and work together…" – Angelina Jolie
Watch the conversation below:
As the BKMC has joined the efforts to call on global leaders for green recovery, the plenary session "Towards Carbon Neutrality for Planetary Sustainability" strengthened the urgency of multilateral efforts to commit to green finance, climate mitigation, and adaption programs to avert the disastrous effects of climate change and achieve carbon neutrality by 2050. 
"Just transition programs are integral to the success of climate mitigation. Combined mitigation and adaptation solutions are some of the most cost-effective ways to solve the world's climate challenges." – Patrick V. Verooijen 
The panelists were:
Minister of Foreign and European Affairs of the Grand Duchy of Luxemburg, Jean Asselborn
CEO of the Global Center of Adaptation Patrick V. Verooijen
Chairman at SDSN Korea Soogil Young
Chairman of Board at Clean Air Asia Bindu N. Lohani
The BKMC congratulates all partners involved for making GEEF 2021 successful and their tireless efforts to achieve Agenda 2030 and create a better sustainable future for all.