About
The Ban Ki-moon Centre's Mentorship Program aims to mentor and empower young women to become leaders contributing to the achievement of 2030 Agenda. Each co-hort can target a different focus SDG but carries similar program componets. Currently we do not have any open application for the program. The most recent program was conducted in 2021. The Ban Ki-moon Centre's Mentorship Program 2021 empowered 15 emerging young women leaders in Global Health. Global Health is closely linked to SDG 3 'Good health and well-being', a field where women are still underrepresented in decision-making and policy-setting despite making up over 70% of the global healthcare workforce.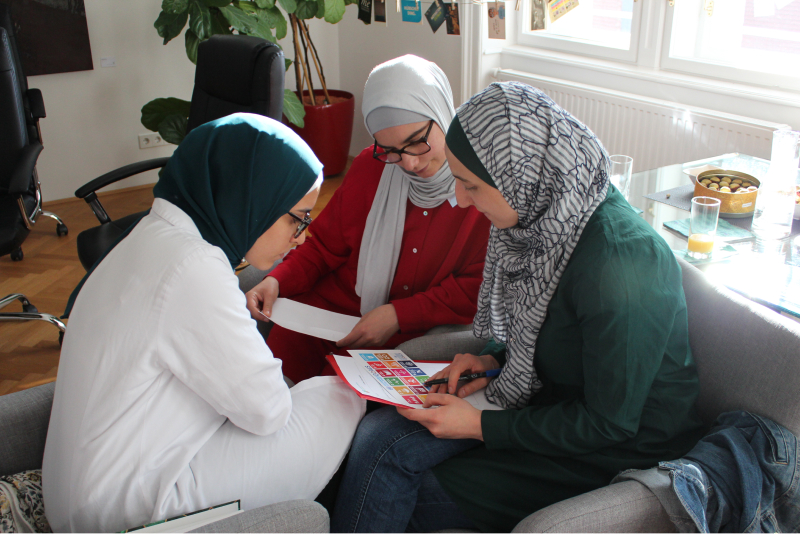 Peer-to-peer learning
One of the focuses of the program is to create space for the mentees to get to know each other, to exchange ideas and personal experiences. By participating in various events, seminars and networking opportunities the mentees benefit from peer-to-peer learning.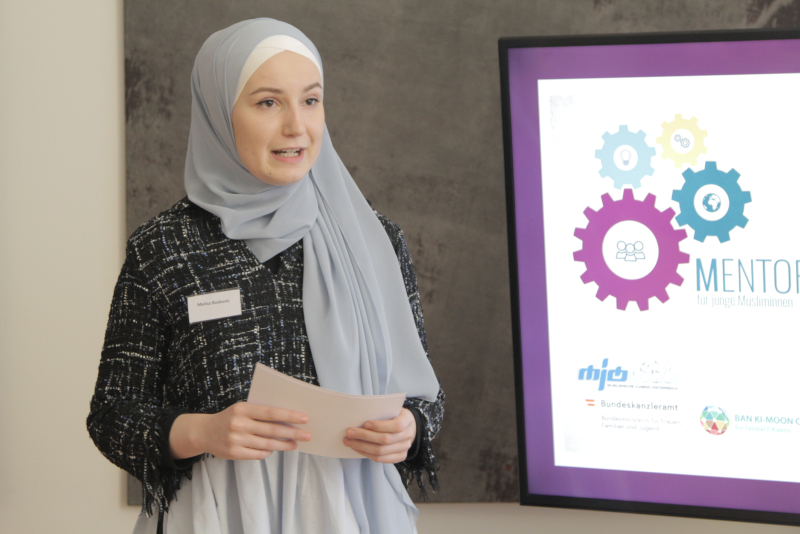 Capacity and skill building
The mentoring process includes various skill building workshops designed especially for the mentees. Over the course of the program they participate in different discussions on Global Citizenship and the SDGs that allow them to think outside the box when implementing these subjects in their professional lives.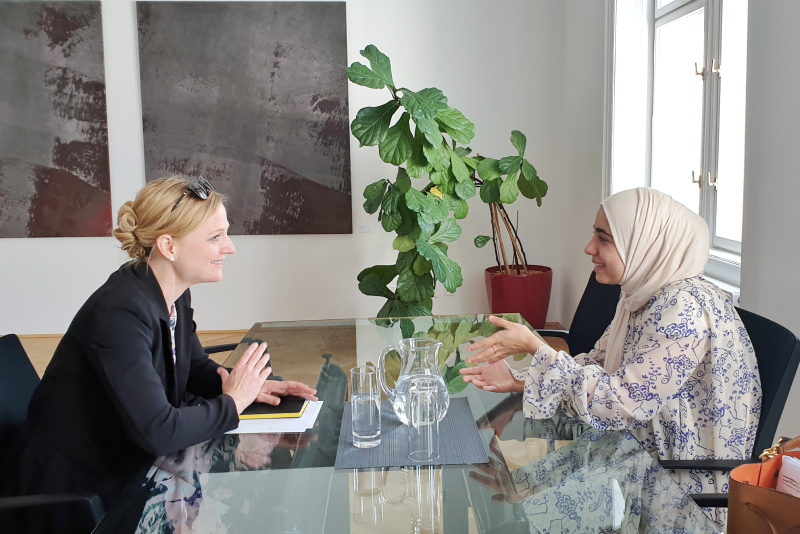 Mentor-mentee sessions
The mentees and their mentors meet regularly for one-on on mentoring sessions over the course of 6-months. Mentors are also encouraged to invite their mentees to events they attend and to interesting networking opportunities.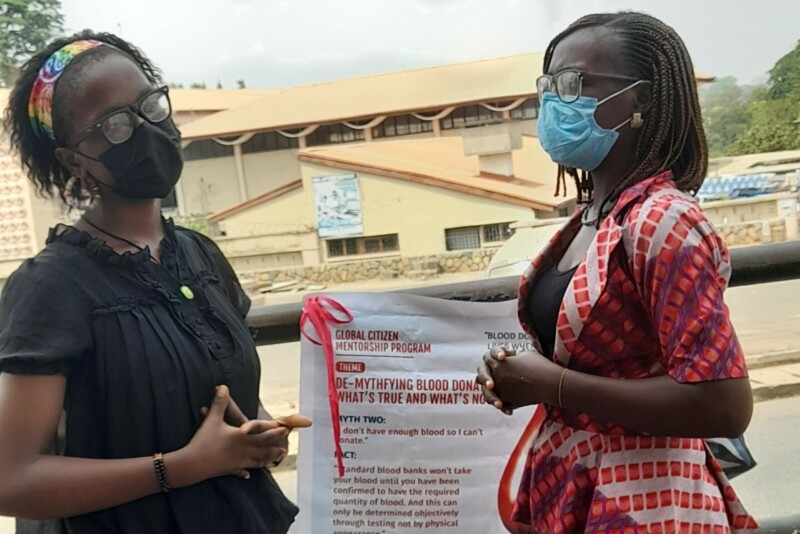 Development of an SDG Micro-Project
As the final requirement of their mentorships, the mentees are encouraged to design and implement an "SDG Micro-Project" with their mentors. Each mentoring pair has the responsibility to develop and submit a project that contributes to the achievement of one or more SDGs.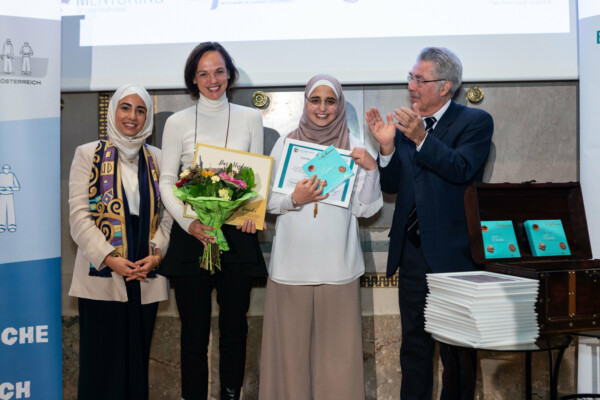 Certificate of achievement and alumni network membership
After the successful completion of the SDG Micro-Project, mentees are awarded with a Certificate of Achievement signed by the Co-chairs of the Ban Ki-moon Centre. Additionally, mentees become a part of the Alumni Network of the Centre.
Our partners
Founded in 2019 and selected in July 2020 under the Erasmus+ call for European Universities Initiatives, ENLIGHT stands for "European university Network to promote equitable quality of Life, sustainability and Global engagement through Higher education Transformation". In 2021 ENLIGHT was awarded additional funding support under H2020 to build a joint research and innovation agenda with and for society.Bringing together the University of Bordeaux along with eight other universities from the four corners of Europe, the alliance pursues an ambitious strategy for educational and research transformation in order to innovate methods of dealing with global, societal challenges. The strategy defines and addresses five main flagship challenges which are key determinants of societal well-being and sustainability: health and well-being, climate action, digital innovation, equity, energy transition and circularity.

The Muslim Youth Austria is the only German-speaking, Muslim, independent youth organization of the second and third generation of Muslims in this country. She leads a nationwide work and is by and for young people with the most diverse ethnic and cultural backgrounds.
The Muslim Youth Austria is a member of the Austrian Federal Youth Council (BJV) and is supported by the Federal Ministry for Women, Families and Youth.
Our alumni
Akime Yvonne Muriel Napo-Koura
Ximena Estefanía Mendieta Álvarez
Lucie Vanhoutte
Isabelle von Polenz
Danielle Fernandes
Shireen Bhamani
Leslie Alcouffe
Cécilia Dumar
Ida Zida
Lea Lemke
Paulina Kellersmann
Maria Belen Tirado
Vivienne Kirabo
Hebatallah Abdelrasol
Elizabeth Okoye
Yosra Ibrahim
Samra Malić-El Shamy
Nourhan Ibrahim
Aysenur Sümer
Nesrine Jaballah
Mierna Mahmud
Fatlinda Ibraimi
Tugba Doga
Jasmin Saad
Amira Zaetar
Amina Sadikovic
Safiyah König
Esra Aiad
Hagar Abu Warda
Anisa Halilovic
Fatima Ali-Avdic
Jasmina Alam
Farah Challakhi
Zuhal Bozkurt
Qamile Suleymani-Buja
Nadine Abu Zahra
Nora Abu Zahra
Asma Aiad
Maham Akhtar – Doko
Mubashara Akhtar – Doko
Hazal Aluntas
Melisa Boksovic
Nesrin El-Isa
Gönül Erez
Donia Hemida
Dina Iebed
Bouchra Ikherrazene
Ines Mahmoud
Maida Mehmedovic
Sarah Momani
Tamara Momani
Mariam Rahman
Edina Sadikovic
Elma Salo
Rumeysa Seker
Samar Shehata
Canan Yasar