Last week, the BKMC, in cooperation with the Muslim Youth of Austria (MJÖ), hosted its third and final mentee workshop for the mentoring project 2020 – Global Citizens at Work.
The workshop featured Mag.iur Anna Steiger, Vice Rector Human Resources and Gender at the Technical University in Vienna and focused on the importance of network building for young women.
Ms. Steiger shared a bit about her own background in law and how she was able to advance her career through a variety of networks, both formal and informal.
She emphasized the importance of joining networks that you feel comfortable with and that networking is not a "one-way street. It has to go both ways and you have to be ready to invest in it."
While networks can open doors for jobs, she also underlined that one can also get jobs without the help of networks.
Ms. Steiger discussed two types of networks: formal and informal and how both can be important for women. For example, she founded her own formal network "Salon Real" which is a network for women in the property branch. In comparison, an informal network may result from meeting other parents at your children's kindergarten or be formed from colleagues at your university.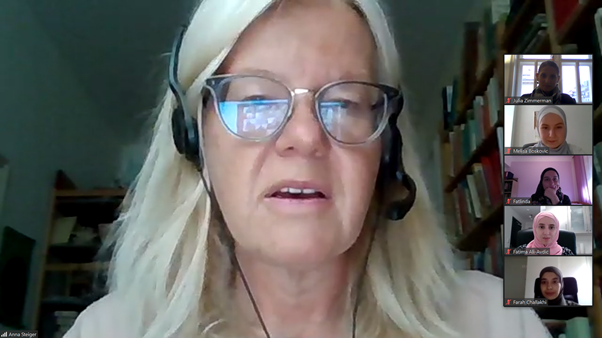 During the Q&A, the mentees had a chance to ask Ms. Steiger some of their more pressing questions. One of the mentees asked her to share her "tips for success" as a woman building a career. She recommended the following:
If you don't get the job, be happy! You probably weren't the right person for the job. 99% of the time this is true.
Timing is important. You need to know it and use it.
Your friends and family are important! Don't forget them.
Be able to turn off.
The mentoring program for 2020 will end in November this year. During the final weeks, mentoring pairs will submit their SDG Micro-Project reports and attend a final closing event on November 17th. Stay tuned for updates!