The Learners to Leaders: Nurturing Changemakers Through Global Citizenship Education Program officially welcomed 15 young change makers across 12 countries and 4 continents on May 5th, 2023.
The Learners to Leaders program links young change makers who are working on Global Citizenship Education (GCED) as part of their academic, professional or extracurricular pursuits with global experts in research and practice. With this vision, through the program, the participants will firstly attend virtual roundtables to exchange on best practices, lessons learned and the status-quo of research on GCED.
The program kicked off with speeches from Ban Ki-moon Centre Co-chair Dr. Heinz Fischer, CEO Monika Froehler, as well as the former UNESCO Director-General and Ban Ki-moon Centre Board Member Irina Bokova.
In her opening remarks, Irina Bokova highlighted the importance of a "comprehensive, integrated and person-centered approach" to tackle the multiple crises around the world and the role that GCED plays in this regard.

Echoing that sentiment, Dr. Heinz Fischer called on the participants to "let this program and your GCED micro-projects be a contribution to a peaceful world based on democracy, global citizenship, and fair living conditions".

CEO Monika Froehler found encouraging words for our young change makers: "Judging by your varied backgrounds and previous experience, I have high hopes for the solutions you will come up with to some pressing challenges.".
As a first expert, Jack Davies of The World's Largest Lesson spoke about the challenges of designing and delivering education systems fit for the demands of the 21st century. He gave examples of their work in empowering teachers to work beyond the constraints of curricula and expanding the agency of students to become global citizens.
Later in the afternoon, the participants took part in a roundtable discussion with an expert panel with: Prof. Emiliano Bosio of Toyo University, Prof. Yusef Waghid of Stellenbosch University, Rilli Lappalainen, Founder of Bridge 47 and Amanda Abrom from Global Schools. They all shared learnings from the theory and practice of GCED across the spectrum of academia, and primary, secondary, and informal education settings.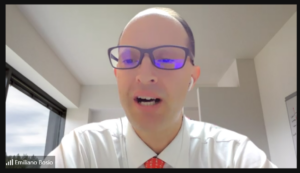 Prof. Emiliano Bosio defined CGED as, amongst other things, a "pedagogy of value, oriented towards social justice that gives us a meaningful way of examining our shared planet". He also showed how GCED is "a meaningful way of reflecting critically" and assisting learners to become part in the creation of a new future "with its roots in social justice and sustainability".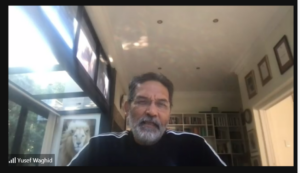 In a thought-provoking input, Prof. Yusef Waghid recalled what education really is: an exchange of thoughts and ideas engaging in a critical and deliberative way by engaging in encounters that are often not smooth or comfortable. In that frame, he called upon learners and leaders to rupture the dominant understanding of GCED and to allow themselves to be guided by the notion of critique. To do this,  what is needed is to "cultivate an equal moral respect" for different ways of knowing and living.
Amanda Abrom, Program Manager of the Global Schools Program, showed how GCED is implemented at the primary and secondary level, which has been proven to give students the ability to share sustainable societies.
Finally, Rilli Lappalainen from Bridge 47, exhibited a variety of ways in which informal education can facilitate GCED. By carving out social, cultural, artistic and political spaces, GCED can inspire, critique and argue for social justice through informal GCED
Over the upcoming sessions, participants will hear from more expert speakers and take part in practical workshops to support them to ideate and implement their own GCED Micro-Projects. The next session takes place on Friday, May 12th.
Check out a graphic recordings summary of the kick-off call and the GCED expert talks below: