#BKMC CEO Monika Froehler was a panelist for an online discussion part of the five-day Bloomberg Green Festival organized by Bloomberg and Global citizen. The engaging session titled how to Feed the Future – Food Security in the Context of Climate Change focused on farmers, produce and the impact of Climate Change and #COVID19.
"Investing in climate smart agriculture is imperative."
The discussion was moderated by Global Citizen Chief Policy Mick Sheldrick and welcomed stellar speakers: Gilbert Houngbo, President, IFAD and former Prime Minister of Togo; Aksel Jakobsen, State Secretary of International Development for the Norwegian Ministry of Foreign Affairs; Sabrina Elba , Actress, Model, and IFAD Goodwill Ambassador.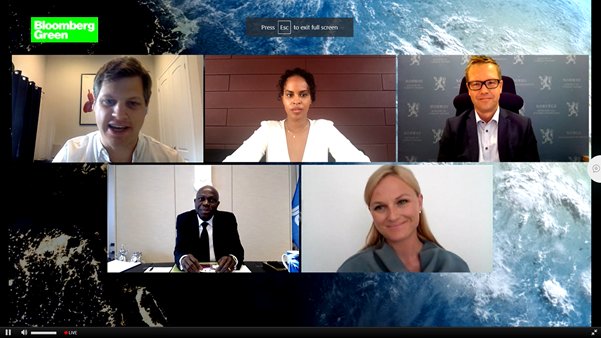 "It is undeniable that farmers are the backbone to any civilisation. They are the men and women who work tirelessly to put food on our tables and are guardians of natural resources, and will be significant in reduction of GHG emissions. Where would we be without farmers?" Mick Sheldrick, Global Citizen Chief Policy
The session highlighted the importance of innovative agricultural solutions to address hunger and malnutrition, ambitious initiatives that have emerged in response to the global COVID-19 pandemic, and the importance of public-private partnership and collaboration to tackle global food insecurity.
ABOUT THE BLOOMBERG GREEN FESTIVAL
A five-day festival featuring a cross section of visionaries from business, design, culture, food, technology, science and entertainment, built to foster solutions-oriented conversations.
Watch the session right here.
#BloombergGreen