On March 8, 2023, International Women's Day, Ban Ki-moon Centre Co-chairs Ban Ki-moon and Heinz Fischer, and CEO Monika Froehler convened the first in-person Board Meeting since the start of the Covid-19 pandemic in Vienna, Austria.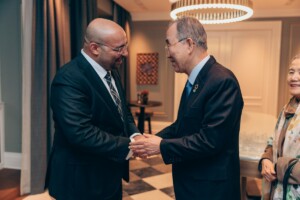 Co-chair Ban Ki-moon and the Board received a warm welcome from H.E. Talal Alfassam, Ambassador and Permanent Representative of Kuwait to the UN in Vienna, who hosted an official welcome dinner in honour of the guests prior to the meeting. Kuwait, the Republic of Korea and Austria remain steadfast supporters of the work of the Ban Ki-moon Centre since its inauguration.
"In difficult times of raging wars and natural catastrophes, we must stand strong and continue to be confident and work together for women and youth on a better future for all." – 8th UN Secretary-General and Co-chair Ban Ki-moon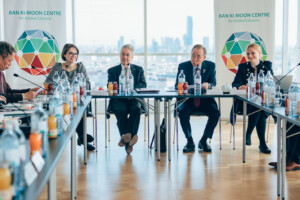 CEO Monika Froehler led the Board Meeting and presented the BKMC's programmatic activities on climate, education, the Global Goals, women and youth empowerment, as well as key moments in 2022 with decision makers and change makers. The BKMC reaches more than 770.000 people in over 60 countries worldwide and advises governments on implementing the SDGs and the Paris Climate agreement. In celebration of the BKMC's 5th anniversary, CEO Froehler highlighted the improvements to its digital presence with the launch of the new website and the growing presence in traditional and digital media.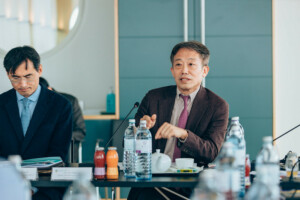 Updates regarding the developments of the US Foundation of the Ban Ki-moon Centre, one of the partner offices around the globe, were given by Board Members Kim Won-soo, former UN High Representative for Disarmament Affairs, and CEO Froehler, who successfully served as CEO and Interim President to the Foundation during its first year and Kate Landon, Strategic Engagement Director for the US Foundation of the BKMC in New York.
The US Foundation in New York was officially opened last year to scale efforts of the BKMC in Vienna and managed to raise over one million USD to launch programs in the US, Latin America and the Caribbean.
The Board discussed strategic ways of promoting the BKMC's mission and vision, the way ahead to address the lack of leadership for the SDGs and Paris Climate Agreement, and opportunities for women and young people.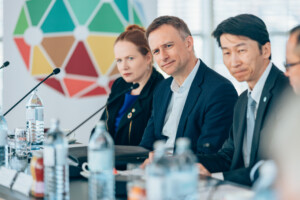 In addition, the Board Meeting was joined by Dave H. Kim, Special Advisor to the President and Chair of the Global Green Growth Institute, who spoke about Ban Ki-moon's leadership role in GGGI and its work supporting strong, inclusive, and sustainable economic growth in developing countries and emerging economies.
To celebrate International Women's Day, the Ban Ki-moon Centre launched its Annual Report 2022. Read about our activities in 2022 and our goals here.
Check out our Flickr album from the Board Meeting below.