As a part of 16 Days of Activism against Gender-Based Violence and the Orange the World Campaign, the Ban Ki-moon Centre hosted an interactive session during the Education for Justice Global Dialogue Series organized by the United Nations Office of Drugs & Crime.
The event series, part of the Education for Justice initiative held between 1 – 4 December, was launched with a virtual high-level opening, where Co-chair Ban Ki-moon delivered his opening remarks, underlining the importance of youth education and rule of law for a more just world: "Empowering children & youth to understand & exercise their rights is what will bring us an equitable & sustainable future based on the universality of humanrights" – Ban Ki-moon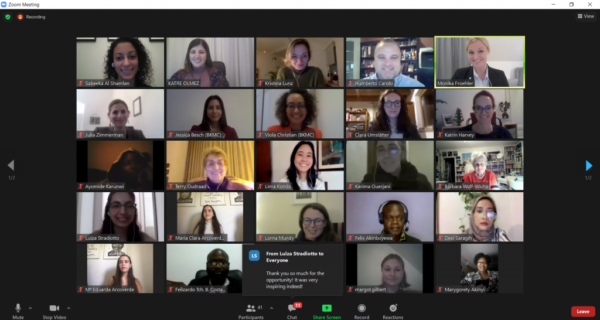 The interactive session hosted by the BKMC titled "Education, Empowerment and Effective Policies: Preventing Gender-Based Violence" welcomed three experts and presentations of their innovative initiatives to prevent gender-based violence.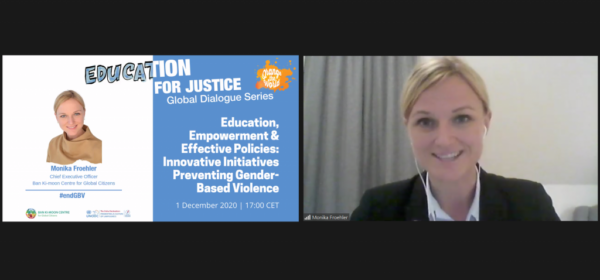 Setting the tone of the discussion, CEO Monika Froehler highlighted the urgency of the topic: "Education, empowerment, and effective policies are key tools to prevent and eliminate gender-based violence. We must act now to create a long-term solution."
As the first intervention Humberto Carolo – Executive Director of White Ribbon Canada, shared his expertise on education for and inclusion of all, in particular men and boys, to address all forms of gender-based violence: "Accountable, intersectional, human rights-based, feminist-informed primary prevention with men and boys is an important complementary approach to endingall forms of gender-based violence and discrimination. Men and boys have important roles to play as gender equality allies and change agents at the individual and systemic levels."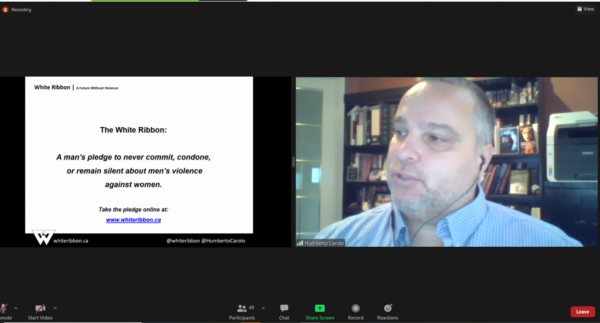 Sabeeka Ahmad, BKMC Global Citizen Fellow, and Social Entrepreneur shared her expertise on women's empowerment and the mission of her business. The Bahrain based social enterprise Warsha develops customized programs for survivors of violence and works with women in the long run especially on financial stability: "We support survivors of GBV by listening to them. Only then we can design our intervention towards empowerment and recovery!"
With regards to effective policies for #GBV, Kristina Lunz, Co-founder & Co-director of the Centre for Feminist Foreign Policy underlined how current ideas and concepts in the security and foreign policy sector are based on an idea of dominating other states and individuals. She claimed: "Domination always requires violence. Gender-based violence is an epidemic in our society – we will only be able to overcome male violence against women once we have created a society based on equality. An end to violence is always grounded in mutual respect. "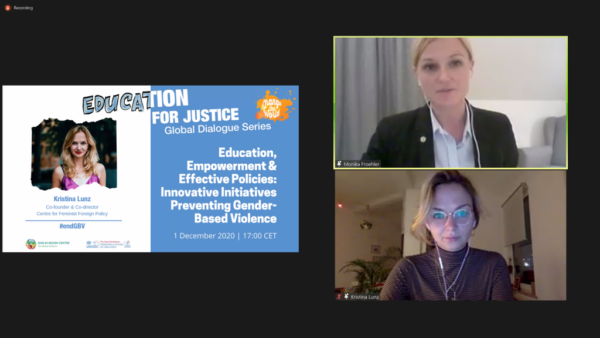 Following the presentations, the audience was invited to join three virtual booths with each expert (Education, Empowerment, and Effective Policies) to engage in a brainstorming session and discuss innovative initiatives to prevent gender-based violence.
The education booth led by Humberto emphasized the need for a multi-stakeholder approach against backlashes to women's rights. Sabeeka engaged her participants in the discussion via an online survey, discussing the complementing elements to financial empowerment such as education, trained health services, women's clubs, etc.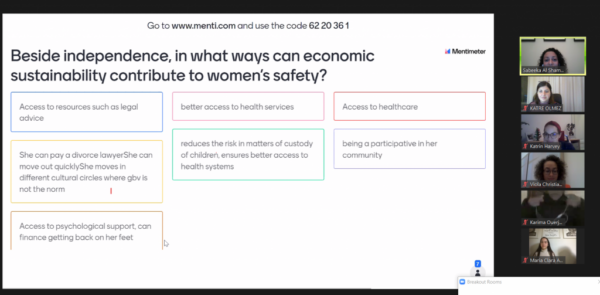 Kristina encouraged attendees with a provoking question to think about how to drive change: "What makes you furious and angry about current policies for GBV? " . Effective policies are only so effective when more women are part of the decision-making process, all people are educated on the issue, and multi-stakeholders recognize and raise awareness on GBV.