"Start small, start with something and have trust that it will grow."

Zoe Kelland
This week, our Global Citizen Scholars had the opportunity to attend their 2nd Expert Workshop hosted by the BKMC featuring Zoe Kelland, Digital Campaigns Director at Global Citizen.
During the workshop, Zoe shared her experiences working with both Global Citizen and her own NGO Nakuru Children's Project in Kenya and offered advice on how to scale a movement. She also had the opportunity to hear from each scholar about their own SDG Micro-Project for their communities.
During her presentation, Zoe shared some background information about Global Citizen, including their mission and the tools they use to activate over 4 million global citizens around the world.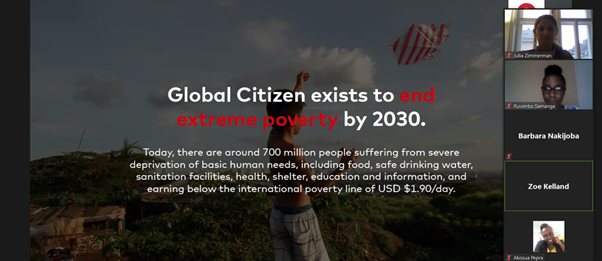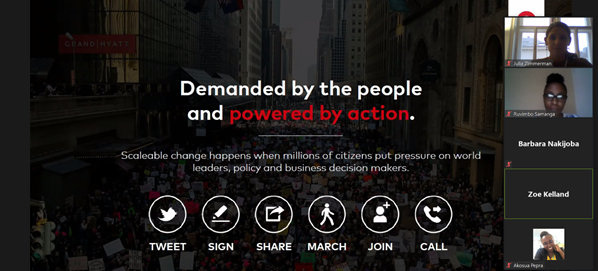 Zoe also highlighted the organization's tremendous impact over its's 10-years of existence.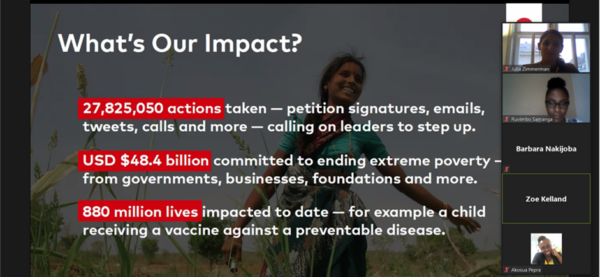 Additionally, to illustrate the way that Global Citizen works, Zoe exemplified a case-study in Sub-Saharan Africa where 1 in 10 girls miss school during their menstrual cycles. In 2018, Global Citizen organized a massive music festival in Johannesburg, South Africa in honor of Nelson Mandela's 100th birthday. In the lead-up to the festival, Global Citizens sent 86,000 emails and 22,000 tweets to the South African Government demanding removal of the tax on sanitary products, funding for adequate sanitation in schools, and the provision of quality menstrual hygiene education for boys and girls. As a result, President Ramaphosa appeared on the stage during the festival and committed to taking action to provide sanitary products to girls with vulnerable backgrounds across the country.
Zoe also shared a bit about her NGO Nakuru Children's Project in Kenya. Nakuru works in partnership with government schools to support vulnerable children through every stage of their education: providing free school meals; building classrooms; paying their school fees; and establishing extra support for children with special needs.
Since its founding over 10 years ago, Nakuru Children's Project has directly impacted an estimated 2,000 children — through providing 330,000 free school meals; sponsoring 148 kids through secondary school; building 20 classrooms and other facilities; and creating a special needs unit where 42 children now learn.
To conclude her presentation, Zoe offered her advice for how to scale a movement:
Find a gap in the Market
Make it accessible
Tap into influencers
Use the power of storytelling
Start small and it will grow
To learn more about Global Citizen visit: https://www.globalcitizen.org/en/
To learn more about Nakuru Children's project: https://www.nakuruchildrensproject.org.uk/