BKMC  Co-chair Ban Ki-moon and CEO Monika Froehler travel to the United Arab Emirates for a mission trip on climate change, green jobs and quality education.
Check out the photos from the visit on Flickr.
From January 27-28, 2023, the Ban Ki-moon Centre delegation was excited to be in Dubai to meet with leading educators, sign a new partnership with Dubai Cares to empower youth for climate action, and interact with youth delegates at the biggest Model of United Nations in the region.
Co-chair Ban Ki-moon and CEO Monika Froehler visited GEMS World Academy in his capacity as official Ambassador to its Model of United Nations, and was warmly welcomed by the GEMS Education Leadership, including Founder and Chairman Sunny Varkey, Group CEO Dino Varkey and Chief Education Officer Dr. Saima Rana. They held discussions with different student groups and teachers on topics such as the Sustainable Development Goals, global citizen values, 21st century skills, pressing challenges the world is experiencing and the power of youth to address them. 
Later that afternoon, the annual three-day MUN Conference at GEMS World Academy was opened. H.E. Ban Ki-moon took the stage at a packed auditorium with more than 600 youth delegates from 50 schools in UAE, sharing his message of global citizenship and call to action. The MUN Conference is an entirely student-led event, organized by and for student delegates of varying ages and backgrounds.
"What we need is innovation for the social good. Young changemakers like you all around the globe are stepping up to the challenges humanity faces today."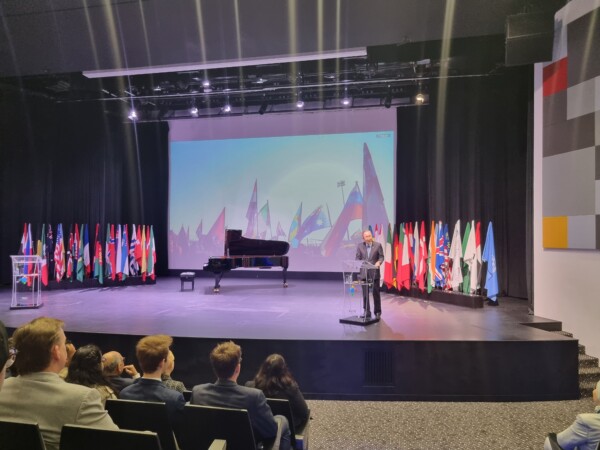 In his keynote, Co-chair Ban Ki-moon put emphasis on five key lessons he learned during the course of his life to enable a better future for all:
Be humble and serve
Lend a hand to other
Be like water
Leave no one behind
Be a global citizen
To close a successful and enriching day, the Group CEO of Gems Education Dino Varkey hosted a dinner reception with GEMS Education principals to discuss continued collaborations on quality education.
On the second day of the mission trip, H.E. Ban Ki-moon and H.E. Dr. Tariq Al Gurg, Chief Executive Officer and Vice-Chairman of Dubai Cares, signed the Memorandum of Understanding in the presence of CEO Monika Froehler to launch the "Green Jobs for Youth – Online Training and Mentoring" program.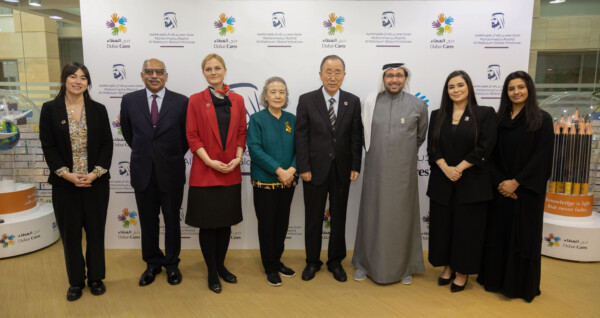 Ahead of COP28, the BKMC and Dubai Cares shared their commitment to strengthen the integration of climate into education through a collaborative and action-oriented programmatic approach.  The new program will work towards developing the potential of youth as leaders who are proactively contributing to climate action through a full understanding of the crisis, and their personal role in driving positive climate actions. The Ban Ki-moon Centre is looking forward to showcasing the potential that lies in green jobs while empowering youth toward climate action. 
In the evening, H.E. Yoo Jeh-seung, Ambassador of the Republic of Korea to the UAE hosted a warm dinner reception at the Embassy of the Republic of Korea to the UAE.
Read the press release with Dubai Cares here.